RCIA
The Catholic Church Welcomes You
RCIA is the Rite of Christian Initiation of Adults. It is a process of faith formation, by which an uncatechized individual, or someone from another Christian denomination wishes to join the Catholic Church or seeks full initiation in the Catholic Church. If you want more information on the program you may contact Father John Loughnane at 603-826-3359.
Do you feel something missing in your life? Begin a new life of love, faith, and justice lived in communion with Catholics throughout the world!
Are you interested in learning more about the Catholic faith? People are drawn to explore the Catholic faith for many different reasons. Perhaps they experienced a Catholic Mass at the time of a wedding or funeral and were attracted by the prayer and ritual. They may have witnessed the source of hope and comfort a Catholic relative, friend or co-worker found in their faith at a time of difficulty or crisis.
Any one of these experiences—or a thousand more like them—might have started you thinking about what it would be like to be a Catholic. How do you find out? Where do you start?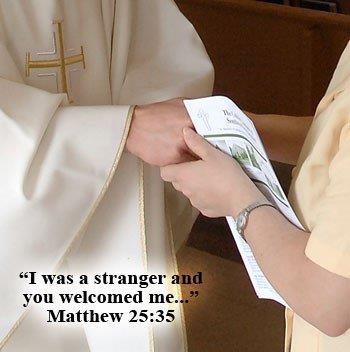 Who is the Rite of Christian Initiation for Adults for?
The Catholic Church designed the Rite of Christian Initiation for Adults (RCIA) process for any adult or child over seven years of age who is
Unbaptized and recognizes a need for spirituality in their life
Baptized and raised in another Christian tradition but interested in learning about the Catholic faith
Baptized in the Catholic faith or another Christian faith tradition, but never received any formal religious training
How do I get started?
The Catholic Church has a process called the Rite of Christian Initiation (RCIA) to help you learn more about the Catholic faith.
In many parishes, you will begin with a one-on-one meeting with a parish staff member or RCIA team member. This is a good time to share where your faith life has taken you and what brought you to this point. Any questions you may have will be addressed here.
The RCIA process is an extended period during which you will be given pastoral and spiritual formation and guidance for living the Catholic faith in the world.
RCIA is not an instructional program—it is a process of conversion created by the Church to welcome those who wish to learn more about the Catholic faith and in turn may want to become Catholic. As you discern God's call for you as an individual, you will experience rituals of commitment and the Sacraments of Initiation (Baptism, Confirmation and Holy Eucharist), which will begin for you a new life of love, faith and justice lived in communion with Catholics throughout the world!
Conversion: What is it and what does it mean?
Conversion means change, moving from where we are to where God would have us.
Conversion affects every part of our being, giving us a new way of understanding ourselves and the world around us.
Conversion is an on-going, lifelong process initiated by God.
We do not control conversion—we accept it as coming from God, drawing us closer to Him and His unconditional love, which we then willingly share with others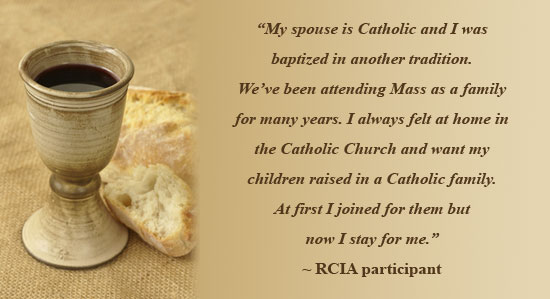 How long does it take to become a Catholic?
It takes long enough for conversion to happen. Depending on your previous faith experience, the circumstances of God's grace, and the process of discernment, the Rite of Christian Initiation for the unbaptized can take a minimum of one complete liturgical year. For the baptized, the process can be adjusted to accommodate your life experience of faith. Since the process of conversion is unique for each individual, some people may require more time than others to prepare for this lifetime commitment.
For more information, Contact Father John Loughnane at the Parish Office (603)826-3359.